For as long as I can remember, reading has been a part of my life. As a child I remember walking to the bus stop with a book in my hand because I was so engrossed in the world within those pages. And by some miracle of auto steering I managed to manoeuvre around obstacles in my path.
Even now, as an adult, I go everywhere with a book in my bag, sometimes two. When I'm not driving I like to take every opportunity to get engrossed in the plot of a novel, live the lives of the characters and marvel at the author's choice of language.
An ex boyfriend gave me a Kobo for Christmas last year and since then my bag has been a whole lot lighter. But whether in paperback or encased inside the gubbins of an e-reader, books are always with me.
I can't imagine a time in my life
without them or when they didn't give me the most immense pleasure ever. Books have seen me through every major event in my life. When I've felt that I couldn't rely on people during the toughest of these, books have been there to pull me through to the other side.
They were the main reason I did English at Uni. I couldn't believe a course existed where I got to stick my nose in a book for as long as I liked. They are the reason I became a teacher. I figured it was a fantastic way to keep doing the thing I love to bits and hopefully pass that love on to others.
The astounding thing though is that many people don't have this relationship with books. For a lot of people they represent failure. For these people reading and writing is the thing which sets them apart. The sad fact is that there is still an inordinate amount of people who cannot read or can only read to a very basic standard.
It's easy to believe that in the modern world everyone has been given the opportunity to learn to read and write, but this is just not the case. The world is still rife with inequality and misfortune.
Thankfully there are organisations all over the country trying to solve this issue. One of them
-
Ruskin Readers

-
is a stone's throw away from my house
. It operates on Mondays and Wednesdays at
Carnegie Library
and is staffed entirely by volunteers.
The coordinator, Caroline, is run ragged trying to keep everything running ship shape. It is not easy. Students keep coming thick and fast – there is an ever growing waiting list. Volunteers come and go because of the pressures of life or work commitments. But in the midst of all the complications is a community of people, students and volunteers, who believe as much as I do in the power of written words.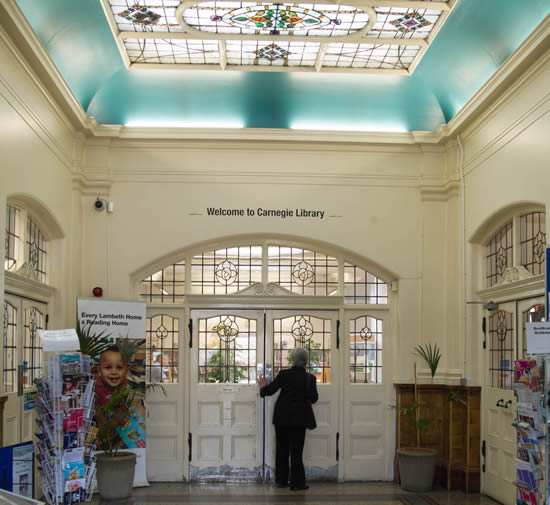 So I'm championing Ruskin Readers because I know the charity wants to give everyone out there the opportunity to think of a book as a life long friend.