The Dragon Project – Artist in Chief
Anastasia Scudamore
Anastasia graduated from Camberwell College of Arts last year. She is currently working on several paintings and has been listed as one of 10 artists to watch on DegreeArt.com. Her work can be viewed on her website and at an exhibition (Art In Mind: Absolution) which is running from 21
st
January - 1
st
February at the Brick Lane Gallery.
I'm lucky enough to have known Anastasia for a few years since I'm friendly with her mum. Personally, I foresee a great artistic future. But of course I'm biased.
Here's your chance to get to know what makes her tick.
When did you know you wanted to pursue a career in art?
After studying Art and photography at A level I knew I wanted to pursue a career in Art. I went on to do a Foundation Course in Art at Camberwell College of Arts and during the Foundation I developed my ideas and style. At this time I also moved out of my comfort zone and experimented with different mediums and I learnt that painting could include any medium. Another aspect that encouraged me was the fact that I was surrounded by art! My dad is an artist and my sister is an illustrator so I think that played a big part.
Do you feel pressure that there are two other artists in your family?
No not all, I don't feel any pressure; I do feel quite lucky that I have two very talented artists who support me. Our styles are very different so we are constantly bouncing off ideas and this sometimes leads to quite heated discussions!
Where do get inspiration from?
My inspiration comes from the things that I see when out and about, exhibitions and places I visit and of course different artists.
How has your art evolved over time?
I have gone through quite an exciting journey to get to the type of work I am making now. I began looking at imagery, distorting everyday objects and I used different techniques, such as melting wax, using tea, any interesting material that was out of my comfort zone. This experimentation evolved and my artwork moved into something a bit more different and to the development of abstraction. I have always been fascinated with how artists have manipulated painting and moved away from the norms of how a painting is made.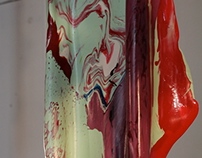 I have challenged the way paint is applied to a surface by pouring paint on acetate and then peeling it off to then suspend it from the ceiling. There was uncertainty and an uncontrolled element in the outcome of these pieces and I found this exciting. This uncertainty has determined my works and the style I am working in at the moment.
The main themes and ideas running through my works have been my fascination of colour, material, texture and creating complete abstraction.
I aim at expressing control with spontaneity, form with composition, colour with surface and abstraction with structure within painting.
Why have you chosen your current medium?
At the moment I am using oil and spray paint. The reason why I am using these two materials is because I am interested in the different textures and the relationships they create. The way they are both applied is through two different processes and this enhances the outcome and ideas of my work and practice.
How do you manage to balance producing art with the demands of everyday life?
Sometimes it's quite difficult to keep the motivation going but having my studio at home in my room pushes me to make my work. But I would like to eventually have my own studio so that I can have a bigger space to work in and separate everyday life from work. I do work part time, two days a week in a Children's Modelling Agency where I am in charge of blogging and all the creative parts of the company. I allocate the rest of the days to producing work and promoting myself through my website, take part in shows and art fairs and research other ways of getting my work seen and noticed.
Who are your favourite artists, old and modern?
I have many favourite artists. Contemporary artist
Callum Inness inspires me through the way he removes colour and paint from the canvas but through the process of painting. I admire the way he harmonises and blends pigments of colours together freezing brush marks and surface.
Another contemporary artist is Ann Pibal and her illusionistic, geometrical design like paintings that look as though they have symmetrically and precisely been thought out but are actually made through a process of improvisation. A few more abstract artists who inspire me: Imi Knobel, Rose Davey, Alexis Harding, Monique Prieto and Yayoi Kusam.
Piet Mondrian
Some deceased artists that have also inspired me are Piet Mondrian, Agnes Martin, Jackson Pollock, and Mark Rothko as they all display different elements of abstract painting but ultimately they all represent the relationship between colour, form, surface and space. They all transformed the concepts and ideas of painting in to something extraordinary. Breaking the boundaries.
What is it about these artists that grabs you?
These artists have broken the boundaries of painting and explored pure abstraction. Their use and the relationships they create with colour is what grabs my attention. I am also intrigued by the emotions and moods that can be created with a limited amount of colours, shapes and surfaces.
Take a look at what Degree Art has to say about Anastasia and her work.